Meet The World's Top Joint Venture Expert
Sohail Khan is widely considered as the foremost authority in joint ventures and joint venture brokering. Since 2000, Sohail Khan, The World's Top Joint Venture Expert, has used his expertise doing joint venture partnering to build and sell a $10M business in 2006 to a $160M group. In 2008 that group went bust and Sohail lost it all going from multi-millionaire to broke. In 2009 he set himself a challenge and went from Zero To 4 Million customers in just 30 days making $1.5M with just one joint venture partnering deal!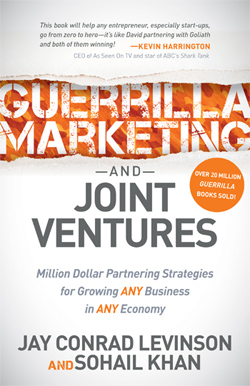 Sohail also published the No.1 International Bestselling book on joint venture partnering with his late mentor and Father of Guerrilla Marketing Jay Conrad Levinson titled "Guerrilla Marketing and Joint Ventures" which was the last ever book from Jay before he passed away in 2013.
After building and selling his own business for 8 figures using joint venture partnering and training joint venture brokers and consultants worldwide, Sohail has developed the most comprehensive training program for joint venture brokering — a program that will show you exactly how to "Launch Your Own Highly Lucrative JV Brokering and Consulting Business". This program is not a franchise and there are no franchise fees, royalties, or hidden costs.
Sohail's pioneering spirit helps to guide you through his training bootcamp in an easy-to-follow, easy-to-understand manner.
Learn more about Sohail Khan's JV Brokering Bootcamp Program and How To Convert Your Business or Life Experience Into a Lucrative Lifestyle as a Joint Venture Broker.